Weekend Interpretive Programs @ Spring Mill
July 12, 2019

-

July 14, 2019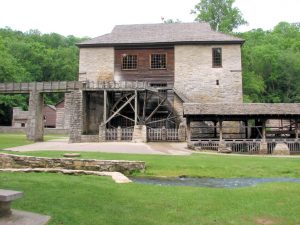 SPRING MILL INTERPRETIVE PROGRAMS
Join us for another fun and eventful weekend at Spring Mill State Park!
FRIDAY
2:00 PM BIRD NEST BUILD Birds are nature's engineers, find out why birds build their homes differently and build a nest of your own!
Meet at Lakeview Activity Center
7:00 PM SMOKEY AT THE CAMPGROUNDS  Smokey Bear has a special message for you about wildfires. Join part of the naturalist staff to visit with Smokey Bear and learn about fire safety.
Meet at Campground Amphitheater
9:30 PM OWLS, OUR NOCTURNAL GUESTS Join Naturalist, Chris, and walk around the village in search of our nighttime friends.
Meet at the Pioneer Village Parking Lot
SATURDAY
10:00 AM CROQUET TOURNAMENT Join us for a trip back in time with this game that was popular with George Donaldson in the late 1800's. Horse shoes and lawn bowling will be available to play, as well!
Meet in the field by Donaldson Shelter
1:00 PM I SPY… SPRING MILL LAKE EDITION Meet Aaron to play a fun game of I Spy! and learn about some of the flora and fauna that surround the lake. Hike – 1 hour.
Meet at the Lakeview Activity Center
10:00 PM LIGHT THE NIGHT KAYAK TRIP Join Naturalists, Sheree and Sarah on a night kayak trip. Celebrate Christmas in July by decorating your kayak with Christmas lights and enjoying a night on the water. Must RSVP, bring a dim flashlight, life jacket and your kayak/canoe. Waivers will need to be signed by all guests and parents must be present for those 17 & under. Must be 3+ to participate.
Meet at the Boat Rental 9:15 – 9:45 pm.
For more information and to register contact Sheree at sbelt@dnr.in.gov
SUNDAY
2:00 PM NATURE TALES AND CRAFTY HANDS Make a craft and listen to a fun nature themed story. Best for ages pre-K through 2nd grade.
Meet at Lakeview Activity Center
10:00 PM FULL MOON HIKE This month's full moon is called the Full Buck Moon. Join us for a rugged 2 mile hike on trail 4. 1 hour
Meet at Sycamore Shelter House
*Gate Fee May Apply*
For more information, call the Park Office at (812)849-3534.
Related Events