Spring Mill Interpretive Programs
September 19, 2020

-

September 20, 2020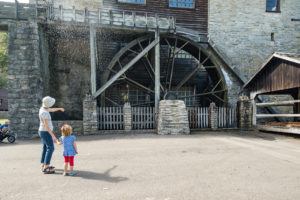 WEEKEND AT SPRING MILL STATE PARK
Join us for a fun weekend at Spring Mill State Park.
Saturday, September 19th
9am:  Fall Equinox Hike – Join our volunteer, Tony, for a 90 minute, rugged nature and history hike.  Meet at Spring Mill Inn front patio.
1pm:  Caves and Virgin Timber Nature Hike.  Hike with Chris on a scenic and informative hike about old growth forest and part of Shawnee Cave system.  Meet at Twin Cave parking lot.  1 hour, 1 mile rugged hike
3pm:  CCC History Hike – Join Payton for a hike on parts of trail 4 and a walk through the village to hear about the CCC and their role at Spring Mill.  1 hour. Easy hike.
Sunday, September 20th
2pm:  Persimmon Hike – Join volunteer, Anthony, on this short, paved trail hike to learn more about these trees and the fruit that festivals are named after.  Meet at Grissom Memorial.  Easy, 20 minute hike.
3pm:  Hamer Cave Hike – Join Chris for a short, history rich hike to view and hear about the significance of this cave. Meet outside the Grist Mill by the Sawmill.  30 minutes. .5 mile moderate hike
PARK ENTRANCE FEES MAY APPLY
IF YOU HAVE QUESTIONS, PLEASE CONTACT THE PARK OFFICE AT (812)849-3534
Related Events