Spring Mill State Park Weekend Programs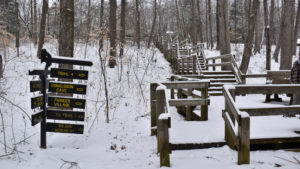 WEEKEND INTERPRETIVE PROGRAMS
Are you looking for something to do this weekend? Check out the programs at Spring Mill State Park!
Saturday, January 29th
1pm:  Lime Kiln Hike – Meet Tony at the Lakeview Activity Center for a hike to historic Lime Kilns.  Learn how lime was made and about the owner of these kilns.  Partially Rugged hike off trail.  45 minutes.
3pm:  Donaldson Cave Hike – Hike back to one of our most scenic spots and learn some history about George Donaldson with Naturalist Morgan. Rugged. Meet by Sycamore Shelter.  45 minutes.
PARK ENTRY FEE MAY APPLY
CONTACT PARK OFFICE FOR MORE INFORMATION: 812-849-3534
Related Events