Weekend Programs at Spring Mill State Park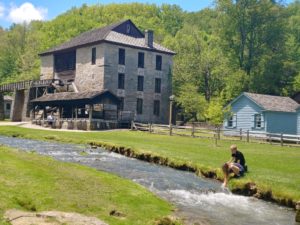 WEEKEND INTERPRETIVE PROGRAMS
Weekends at Spring Mill State Park are never boring! The beautiful park has so much to offer, with the historic Pioneer Village, 9+ miles of hiking, a beautiful lodge & a lake for fishing and kayaking with your friends.
Friday, June 11th
1pm:  Old Growth Hike – Join Naturalist Emilie on a hike through Donaldson Woods on trail 3 to discover the history of our old growth forest. Twin Caves parking lot.  Partially rugged. .5 miles. 30 minutes.
3pm:  Creek Stomp – Dip your feet into the cold creek to help the naturalist find macroinvertebrates.  Learn how they help determine water quality.  Meet by concession stand (Ordinary) by the Pioneer Village.  30 minutes.
8pm:  Campfire Cicada Talk – Join Naturalist Morgan for a campfire chat about cicadas, their benefits and why some take 17 years to come out.  Back Patio at Lakeview Activity Center.  Take home instructions on how to make your own edible cicada treat!  30 minutes.
Saturday, June 12th
10am:  Invasive Plant Hike –  Meet Volunteer Tony at the Pool parking lot to take a moderate hike on Mountain Bike Trail.  Learn about the invasion of Multiflora Rose and others that our destroying our balanced ecosystem.  1.5 hours
1pm:  Trail 6 Hike – Meet Naturalist Chris at Grissom Memorial parking lot for a short, .5 mile hike on this beautiful paved, accessible, and easy trail.  30 minutes.
Sunday, June 13th
1pm:  CCC History Hike – Meet Volunteer Anthony by Sycamore Shelter for a hike to see the many contributions the Civilian Conservation Corps has made to Spring Mill State Park.  Rugged.  1 mile.  45 minutes.
9pm:  Batty for Bats! – Meet Naturalist Chris at the boat rental building to learn about the amazing benefits bats provide.  Watch and Listen for bats with a special bat sound device.  45 minutes.
PARK ENTRY FEE MAY APPLY
$7 FOR INDIANA RESIDENTS
$9 FOR OUT-OF-STATE RESIDENTS
PLEASE CONTACT THE PARK OFFICE FOR MORE INFORMATION
(812)849-3534
Related Events