Weekend Programs at Spring Mill State Park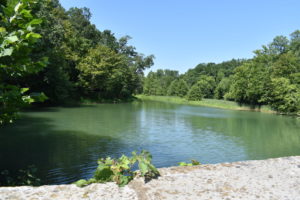 WEEKEND INTERPRETIVE PROGRAMS
Weekends at Spring Mill State Park are never boring! This beautiful park has so much to offer, with the historic Pioneer Village, 9+ miles of hiking, a beautiful lodge & a lake for fishing and kayaking with your friends.
Friday, June 18th
11am:  Chipper Chipmunks! – Discover what it takes to be a chipmunk.  Create your own chipmunk puppet.  Lakeview Activity Center.  30 minutes.
9pm:  Owls are a HOOT! – Join Naturalist Chris at the boat rental building to learn about these amazing birds of prey.  Short hike near the lake to see if we can spot one of these fascinating nocturnal creatures.  45 minutes.
Saturday, June 19th
11am:  Cicada Talk – Discover more about cicadas, their benefits, and why some are out every year while others take almost two decades to immerge.  Lakeview Activity Center.  20 minutes.
1pm:  Creek Stomp – Meet Naturalist Emilie at the Village Ordinary (concession stand near Pioneer Village) to get your feet wet and learn about the creatures that call this creek home.  30 minutes.
3pm:  Hamer Cemetery Tour – Meet Naturalist Emilie at Hamer Cemetery to learn about the history of our village and explore the mystery of some unmarked graves.  30 minutes
–
Sunday, June 20th
10am:  Lake Hike – Meet Naturalist Morgan at the Lakeview Activity Center for a hike around the lake.  Hear about the history of the lake and the flora and fauna that call it home.  1 mile. 50 minutes.
1pm:  Summer Solstice Hike – Join Volunteer Tony for a long hike on a long day.  Meet at Twin Caves parking lot to take a rugged 2.5 mile hike on trail 3.  1.5 hours
PARK ENTRY FEE MAY APPLY
$7 FOR INDIANA RESIDENTS
$9 FOR OUT-OF-STATE RESIDENTS
PLEASE CONTACT THE PARK OFFICE FOR MORE INFORMATION
(812)849-3534
Related Events