Weekend Programs @ Spring Mill State Park
October 16, 2020

-

October 18, 2020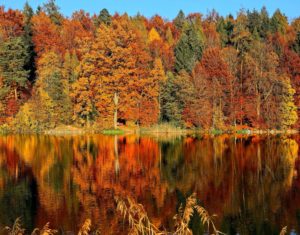 WEEKEND INTERPRETIVE PROGRAMS
Join us for a fun and adventurous time at the beautiful, historic Spring Mill State Park. Below are the programs scheduled for this weekend:
Friday, October 16th
4pm:  Edible Plants Hike: Join naturalist Payton for a hike on Trail 5 to learn about some edible plant species. Meet at the Lakeview Activity Center. 45 Minutes, Moderate Hike.
Saturday, October 17th
7:30am:  Sunrise Stroll – Please join Chris as we experience the beautiful beginning of a new fall day. Meet at Lakeview Activity Center Amphitheater.
9am:  Hidden Caves Hike – Learn about caves at Spring Mill that aren't on the map with our volunteer, Tony. Meet at swimming pool parking lot.  90 minutes.  Off trail, Very Rugged!
11am:  Haiku Hike –  Join naturalist Payton for a hike on parts of trail 4 and learn about the traditional Japanese poetry form, Haiku. Then write your own Haikus! Meet at the bridge near Sycamore Shelter in the Village parking lot. Moderate hike.  45 minutes.
1pm:  Hamer Cemetery Tour – Meet naturalist Chris at Hamer Cemetery to hear about the people that lived and worked in the village in the 1800's.  20 minutes.
Sunday, October 18th
1pm:  Fall Foliage Hike:  Meet Anthony at the Lakeview Activity Center for a 1 mile, moderate hike.  Take in the beauty of the fall season with this hike around Spring Mill Lake.  45 minutes.
3pm:  Creature Feature:  Eastern Box Turtles –  Join Chris at the Lakeview Activity Center Amphitheater to learn about these turtles while meeting our resident box turtle.
PARK ENTRY FEE MAY APPLY
PLEASE CONTACT THE PARK OFFICE FOR MORE INFORMATION
(812)849-3534
Related Events