Lily Comer & Karston Brim: Outdoor Concert
July 30, 2022 @ 7:00 pm
EDT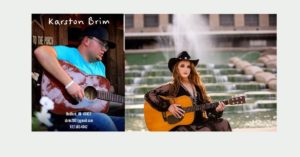 Lily Comer and Karston Brim
will be performing on July 30th at 7 p.m.! This will be an outdoor concert held at Mitchell City Hall.
Tickets will be $15 each all ages!
Lily Comer is a small-town girl with big dreams. Lily, originally from Welch, WV, was raised in Bluefield, Virginia. This talented singer/songwriter/musician has taken the industry by storm! Her unique voice has been compared to Patsy Cline who has a huge impact on Lily's strong country sound. Other influences have been Loretta Lynn, Hank Williams, Sr., Tammy Wynette, Johnny Cash, and Dolly Parton.
At the age of 14, Lily began playing guitar, and later piano. She started singing a year later and the crowd was amazed at this young girl with big voice. She soon became the newest sensation with the local music community. She is so blessed to have so much support from her hometowns.
Lily is also writing a lot of her own songs. She is currently working on her first album.
Lily performs throughout Southern West Virginia and Southwestern Virginia. Her following grew all over the world when she started performing online. Lily took her music further and sent a video to Country Rebel which is the largest country music media platform. Now, her videos are being featured on their social media pages weekly.
Lily is the Grand Champion of the 2020 Pigeon Forge Path to Fame Virtual Talent Competition.
Lily says, "I don't know where my music will take me, but I'm excited for the future. I have BIG DREAMS of being on the Grand Ole Opry, but if I don't, then I'm right where I'm supposed to be."
Doors open at 6:14 p.m.! We hope to see you there!
THE INFORMATION ABOVE WAS TAKEN FROM THE MITCHELL OPERA HOUSE WEBSITE
Grab your tickets now! https://www.eventbrite.com/e/350445109757
Related Events