Nostalgia Band of Lawrence County – Live
March 18th @ 7:00 pm
EDT
$15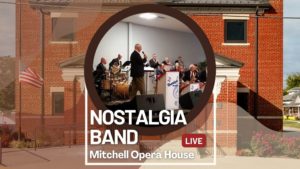 NOSTALGIA BAND
The Nostalgia Band will perform live at the Mitchell Opera House on Saturday, March 18th @ 7 p.m.
Bedford's own Nostalgia Band is made up of local musicians from many diverse backgrounds – including music educators, businessmen, attorneys, and medical professionals – with a common love for Big Band music. Their unique, harmonious sounds of saxophones, trombones, trumpets, rhythm instruments and vocals bring to life old favorites made famous by the likes of Tommy Dorsey, Glenn Miller, Benny Goodman, Duke Ellington, Count Basie, as well as songs from the 50's, 60's and 70's.
As you listen to the Nostalgia Band you'll reminisce about "the good ol' days" savoring these classics from yesteryear along with recent hits from artists including the Brian Setzer Orchestra. The Nostalgia band is under the direction of Frank Battaglia and features Lisa Higgins on vocals.
Tickets to see the Nostalgia Band are $15 for adults and $8 for kids 12 and under. Purchase your tickets in advance through our website: www.mitchelloperahouse.com or at ACE/Ben Franklin in Mitchell or you can purchase at the door on the night of the show!
Seating is first come, first served. Mitchell Opera House is handicap accessible.
Doors will open at 6:15 p.m.
We hope to see you there!
INFORMATION ABOVE IS FROM THE MITCHELL OPERA HOUSE WEBSITE
Related Events