Rivers, Roads & Rails – David Nord
June 25, 2022 @ 2:00 pm
EDT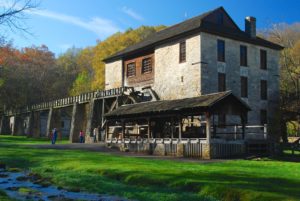 Rivers, Roads, and Rails:
Mapping the Transportation History of Spring Mill Village
 —a talk/slideshow with maps and photos, old and new—
David Nord
Indiana University
Spring Mill State Park
Saturday, June 25th, 2:00 p.m.
At The Village Tavern
Summary
Visitors to Spring Mill Village can see that it is a good location for a water-powered mill, but the Village today seems completely separated from the surrounding countryside. Set in a deep box canyon in the heart of a thickly forested state park and accessible only by footpaths, the Village is serenely isolated. But it was not isolated 150 years ago. From the 1820s to the 1860s, Spring Mill was a transportation crossroads in Lawrence County and southern Indiana. The White River lay just a couple miles to the north. Important state and county roads skirted the Village or ran right through it. And two mainline railroads were built nearby. This presentation of maps and photos is about that transportation system.
Biographical Note
David Nord is professor emeritus of journalism and adjunct professor emeritus of history at Indiana University. He is the author of Faith in Reading: Religious Publishing and the Birth of Mass Media in America (2004); and Communities of Journalism: A History of American Newspapers and Their Readers (2001). In retirement, he has been exploring the histories of Monroe and Lawrence counties. His recent projects include: Mapping Monroe County, Indiana: An Annotated Bibliography, 1815–1941 (Bloomington: Monroe County History Center, 2021); and Mapping Lawrence County, Indiana: An Annotated Bibliography, 1818–1941 (Bedford: Lawrence County Museum of History, 2018). Both publications are available as downloadable PDFs through the online catalogs of the Indiana Historical Society, the Indiana State Library, and IU-Bloomington.
Related Events