The Rigby – Live
April 8th @ 7:00 pm

-

9:00 pm

EDT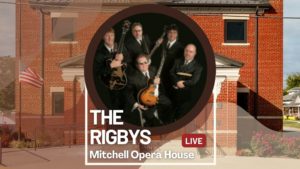 THE RIGBYS
The Rigbys Beatles Tribute Band will be performing live at the Mitchell Opera House on April 8th at 7:00 p.m.!
The Rigbys have become one of the premier Beatles celebration bands in the Midwest, formed by talented veteran musicians, out of their personal love for and influence by the Beatles. The band members have carefully honed their craft, delivering stunningly accurate recreations of this music. You won't believe your ears! The show is delivered with an energetic, entertaining, and captivating enthusiasm that interacts with the audience.
The Rigbys audience ranges in age from 5 to 85. The "Baby Boomers" emotionally thank the band for taking them back to a happier, more carefree time, making them "feel young again"!
The Rigbys offer an alternative to other Beatle "look alike bands" that often appear like caricatures, and perform only a narrow period of the Beatles music. You will continuously get a VARIETY OF MUSIC as The Rigbys take you from 1962 up to the present, and then back again! You'll get all the many styles of music recorded by The Beatles as a group, and as solo artists… Rock & Roll, pop ballads, dance, swinging 60's sound. With the huge song selection, you can never predict what is coming your way next! Check out The Rigbys website here: http://www.therigbysband.com/
We hope you 'Come together' with friends and family for this talented show!
Tickets to see the Rigbys are $20 for adults and $10 for kids 12 and under. Tickets can be purchased in advance at Ace Hardware in Mitchell or by following this link: https://www.eventbrite.com/e/476723612157
THE INFORMATION ABOVE IS TAKEN DIRECTLY FROM THE MITCHELL OPERA HOUSE WEBSITE
Related Events