Weekend Programs at Spring Mill State Park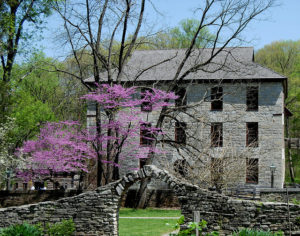 WEEKEND INTERPRETIVE PROGRAMS
Friday, July 29th
9am:  July Trail Challenge Series – Join Tony for a hike every Friday at 9am in July to complete all the trails in the park.  Earn your Trail Challenge Sticker.  Today's hike is on Mountain Bike Trail.  1.5 hours.  Partially Rugged.
1 pm: Mammals of the Sky– Meet Naturalist Emilie at the Lakeview Activity Center to learn about our insect devouring, flying mammals in Indiana and help her debunk some myths about our bat friends. 30 mins.
2pm: Leaf Litter Critters– Help Naturalist Morgan find some sneaky critters that like to hide under leaves and branches in the woods. Learn about why these decomposers are so important to us. Meet at Lakeview Activity Center amphitheater. 30 minutes.
–
Saturday, July 30th
11 am: Nature Chalk Art– Learn about some of Indiana's wildflowers and help the Naturalist draw them using chalk.  Lakeview Activity Center back patio. 20 mins.
1pm-3pm: Self Guided Scavenger Hunt-Pick up a scavenger hunt from the Lakeview Activity Center and complete it for a prize!
Sunday, July 31st
2 pm: Hamer Cemetery Tour– Join Emilie at Hamer Cemetery to learn about the history of the Pioneer Village and some original settlers. 25 minutes.
Related Events