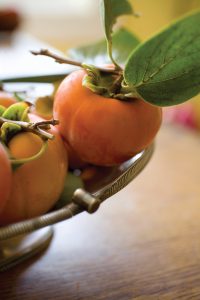 Every year in mid-September, the city of Mitchell hosts the Persimmon Festival. These fun-filled days pay tribute to the unique locally-grown fruit.
A persimmon is a plum-sized fruit that has an orange color with a unique flavor similar to pumpkin. Persimmon pudding is a baked pudding dessert with the texture of gingerbread. It is usually served in squares with a dollop of whipped cream.
The persimmon pudding contest is one of the favorite events at the Persimmon Festival. Persimmon pulp is readily available from local residents and farmers' markets during the fall months. Download the winning recipes and try them out for yourself!
---
72nd Annual Persimmon Festival

September 22 & 24-29, 2018
Saturday, September 22 Highlights
Community Yard Sale
EMS Day
Mini, Little & Junior Queen Pageant
Candlelight Tour
Sunday, September 23rd Highlight
Queen Contest
Cornhole Tournament
Monday, September 24 – Saturday, September 29 Highlights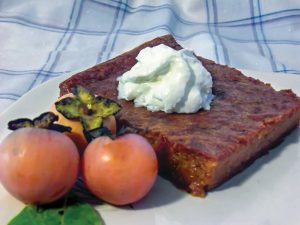 Persimmon Pudding
Parade (29th)
Carnival
Automobile and Motorcycle Show
Local Arts & Crafts Exhibits
Photo Contest and Exhibit
Musical Entertainment
Commercial Tent
Persimmon 5K, One Mile Fun Run and Persimmon 5K Walk
Lasagna, Pork, Ham & Bean and Steak Dinners on select evenings
---
Play & Stay in Spring Mill Stay Park
Kick back and enjoy Persimmon Festival and Spring Mill State Park all week long. Play and stay for only $72+tax in any room. Call (812) 849-4508 to make a reservation. Use rate code FEST.
---