Cave River Valley Day with Spring Mill State Park
August 20th

-

August 21st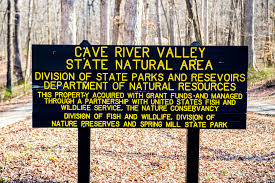 CAVE RIVER VALLEY DAY
Spring Mill State Park offers great interpretive programs! Check it out:
Saturday, August 20th
Cave River Valley Day!
Beautiful scenery! No restrooms. Please plan accordingly. Bring water, snacks, bug spray, and a change of shoes. Water shoes or boots recommended. Attend the event any time between 10 am-12 pm and get entered into a drawing to win a 2022 annual Indiana State Park Pass!
Address to Cave River Valley:
6031-6871 N. Cave River Valley Road.
Campbellsburg, IN 47108
10 am-12 pm: History Talk and Table– See old photos and hear stories of the past.
10 am: Endless Cave Tour– 2 hours. Must register by August 19th.
10:30 am: Wildflowers of CRV-Join David Mow, Invasive Species Specialist from Morgan County SWCD for a 30 minute hike.
11 am: River Cave and Old Grist Mill Hike– Join local schoolteacher, John Calhoun, for a short rugged hike with some great history.
11:30 am: Natural History Hike– Join Tony for a hike that will take you to Endless Cave, Bear Den Cave, and Lover's Leap. 45 mins.
1 pm: Endless Cave Tour– 2 hours. Must register by August 19th.
Sunday, August 21st
11 am: Furry Friends– Meet Naturalist Paris at the Lakeview Activity Center to learn about Indiana's mammals and the importance of their fur. 20 mins.
PARK FEES MAY APPLY
Please contact the Park Office for more information (812)849-3534
Related Events