Lauren Mascitti LIVE
August 13, 2022 @ 7:00 pm
EDT
$30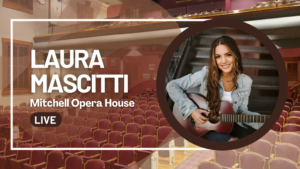 LAUREN MASCITTI LIVE AT THE MITCHELL OPERA HOUSE
Join Mitchell Opera House on August 13th for a performance by American Idol's Lauren Mascitti! Lauren, originally from the small farming town of Louisville, Ohio, was a fan favorite on American Idol!
You might remember Lauren Mascitti from this past season of ABC's "American Idol." Mostly known for her solo round performance during Hollywood Week of a song she penned herself and dedicated to her nana titled "God Made A Woman," she quickly became a fan favorite. Although she didn't win the vote, putting her in 21st place, outraged Idol fans catapulted Lauren's newest independent album release "God Made a Woman" to #4 on the iTunes Country Albums Chart within a day of her elimination.
Nine albums later, Lauren's story remains grounded in the cultural tapestry of her upbringing. A proud Italian-American, she grew up with the songs of her favorite Italian-American artists, whose classic melodies inspired her own songwriting. Equally inspirational were the Saturday nights of her childhood, when Lauren would often stay up late to watch singers like Crystal Gayle on The Statler Brothers Show. Come Sunday, she'd be at her beloved church, singing in the choir and leading praise and worship in the youth group. By 12 years old, she had released four solo records and moved to Branson, Missouri, where she balanced her schoolwork with nightly performances alongside gospel singer (and original Oak Ridge Boy) Gary McSpadden. She played six shows a week at the Americana Theater, becoming a professional singer before she was even a teenager.
Meanwhile, Lauren was also growing into a seasoned songwriter. Strumming an old Gibson Dove acoustic guitar that had once belonged to her great-grandfather, she wrote her first songs as a young teenager.
Lauren eventually moved to Nashville, but not before graduating college with a degree as a registered nurse. "I work with people at different stages in their lives," she says of her ongoing work as an RN, "and I've heard so many stories. The whole experience has inspired me. I've learned a lot about people and what they've gone through." During her off-the-clock hours, Lauren continued writing songs, sometimes alone and sometimes with the input of co-writers like Pam Tillis, Matraca Berg, Mo Pitney, Bobby Tomberlin, Wil Nance, Bill Whyte, Ronnie Bowman, Renee Martin, and more. She also struck up a partnership with Grammy Award-winning producer, Shawn Camp, who produced Lauren's strongest album to date: 2020's God Made a Woman.
God Made a Woman is Lauren Mascitti not only as her most compelling, but at her most fully realized. This is her story, told song by song.
THE INFORMATION ABOVE IS DIRECTLY FROM THE MITCHELL OPERA HOUSE WEBISTE.

Related Events