Virgil I. "Gus" Grissom Day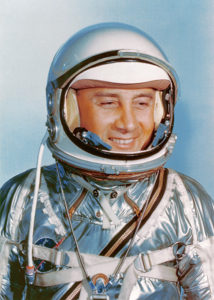 Virgil "I" Gus Grissom Day
Gus Grissom was one of the Original Seven Mercury Astronauts and one of the first men to fly in space. If that isn't exciting, we don't know what is! He hails from right here in Lawrence County and it's important that we never let his story go unrecognized. Take this day to remember our local hero and have a little fun while you're at it.
8:00 AM – 4:00 PM Astronomy activities for children and learn about food in space!
8:00 AM – 3:00 PM Hoosier Hill HAM Club will be operating a special event amateur radio station, W9GUS, from outside of the Gus Grissom Memorial.
1:00 PM – 4:00 PM Docent dressed in NASA Flight Suit will be available to interpret the memorial
2:00 PM Learn about aerodynamics and build your own water powered rocket! 
CLICK HERE TO SEE MORE SPRING MILL ACTIVITIES
FOR MORE INFORMATION ON GUS, CHECK OUT THESE PLACES:
Grissom Memorial 9:00 AM – 4:00 PM
Check out some special space artifacts and memorabilia!
Grissom Boyhood Home 11:00 AM – 3:00 PM
Take a look inside the home that Gus Grissom grew up in! Open Saturday & Sunday this weekend.
Grissom Monument All Day
Check out this 44 foot tall monument and learn about Grissom's space flight and military experience!
Related Events