In the early 1800s, settlers built an industrial village near the flowing water from several cave springs. As they explored the area they found several sinkholes, caves and wooded areas. The pioneers recognized the opportunities land provided and created a self-sufficient community. Through time, the community grew to become the foundation of Lawrence County. Nearly a century later, the village and surrounding land has become known as Spring Mill State Park. Today, Spring Mill State Park, offers a glimpse into the area's industrial history while highlighting today's nature just three miles east of Mitchell, Indiana.

Restored in 1914, the settler village features over 20 historic buildings to explore. The centerpiece of the village, the massive Grist Mill is powered by water, and still operates today. The buildings include a school, saw mill, wool mill, leather shop, mercantile, blacksmith shop, tavern, distillery and several residences. Reenactors realistically portray life in 1863, explaining the role they played in the community and demonstrating period crafts.
Mitchell native, Virgil I. "Gus" Grissom was one of the original Mercury Seven astronauts and America's second astronaut in space. Located just inside the park in a dedicated building, visitors will feel like they are in a museum with hundreds of space exploration artifacts and interactive experiences. The exhibits include the Gemini III Molly Brown spacecraft, Grissom's space suit, video presentations and many other artifacts from his early life to his time at NASA.
Nature Center
Overlooking Spring Mill Lake, the Nature Center features live snakes, a turtle, a bird-watching window, natural history displays and an interactive children's area. Park naturalists are on hand to answer questions and give presentations on the park's flora and fauna. Check out the schedule of events, presentations and programming.
Spring Mill State Park is home to Bronson, Twin, Donaldson, Hamer and other caves. This cave system provides a constant water source. Take a guided underground boat tour of the Twin Caves. The two caves are connected by a short river in the bottom of a limestone sinkhole. Guides point out fascinating cave formations and rare aquatic creatures. Because they are underground and maintain a 50 degree temperature, cave exploration is the perfect way to beat the heat. It is advised to reserve your cave tour in advance.
Recreation
The park is filled with trails, nature preserves, ponds, rivers, a swimming pool and more. Adventurers can canoe/kayak, swim, fish, hike and bike across the over 1,000 acres of woods, caves and waterways. Boat rental is available or bring your own. As this map illustrates, nine scenic trails wind throughout the park ranging from easy to rugged and from .5 to 2.5 miles in length. The Friends of Spring Mill State Park, a volunteer group supporting the Park, challenge you to hike all 10 miles of trails inside of Spring Mill! When you finish, order a trail-challenge t-shirt or pick up a sticker for $1 at the Nature Center or the Park Office! All proceeds go to various park projects/events – Click here to order the t-shirt.
This cozy inn offers 74 country-style rooms, a dining room, indoor/outdoor pool and a gift shop. Several casual and comfortable seating areas throughout the inn provide a relaxing spot for quiet or conversation. The patio seating provides a peaceful view of nature and birdwatching.
Camping amenities include full hookup campsites, electric and water campsites, primitive campsites and youth tent camping areas. Forget something? No problem. Visit our camp store to get what you need. Schedule your camp site in advance.
Spring Mill State Park is a unique Indiana state park, offering a large variety of experiences. Whether you are a camper or prefer the inn, you'll need to stay overnight in Spring Mill State Park to have enough time to see and do it all.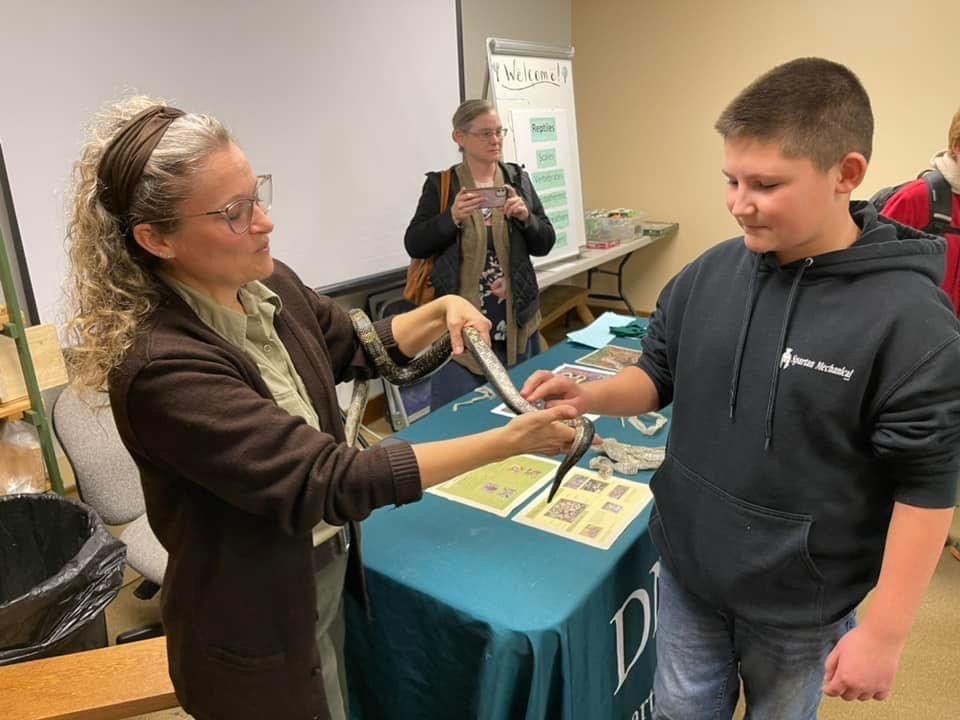 Meet Spring Mill State Park Interpretive Naturalist, Sheree Belt. With a Bachelor's of Science degree in Education, Sheree says she owes her love for nature to her parents. "They loved the outdoors and took us camping and fishing."
Now, helps visitors discover new and cool things about the natural world. Her most memorable visitor was a child at the Gus Grissom Memorial, dressed as an astronaut with many questions to ask. She has also taught families how to fish, which is especially gratifying, knowing fishing together will bring them lasting memories.
According to Sheree, Spring Mill State Park is a special and unique park, packed with pretty impressive natural and cultural resources. We think Sheree Belt, herself, makes the park special and unique, too.