Weekend Programs at Spring Mill State Park (Cave River Valley Day)
August 20th

-

August 22nd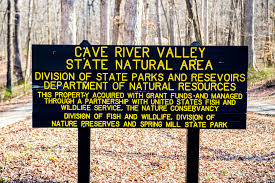 WEEKEND INTERPRETIVE PROGRAMS
Friday, August 20th  
11 am: Fantastic Birds and Where to Find Them– Join Naturalist Emilie on a hike around Spring Mill Lake to learn about our native birds and waterfowl and how to identify them. Meet at the Lakeview Activity Center. 1 mile. Partially Rugged. 50 minutes.
3 pm: Creek Stomp– Help Naturalist Morgan find some macro invertebrates and dip your feet into Mill Creek. Meet by Pioneer Village Concessions (Ordinary). 30 minutes.
Saturday, August 21st
Cave River Valley Day!
Beautiful scenery!  No restrooms. Please plan accordingly. Bring water, snacks, bug spray, and a change of shoes. Water shoes or boots recommended. Attend the event any time between 10 am-12 pm and get entered into a drawing to win a 2021 Annual Indiana State Park Pass!
Address to Cave River Valley:
6031-6871 N. Cave River Valley Rd. Campbellsburg, IN 47108
10 am-2pm: History Talk and Table– See old photos and hear stories of the past
10:30 am: Wildflowers of Cave River Valley– Join the naturalist for a 30 minutes rugged hike.
11 am: River Cave and Old Grist Mill Hike– A short rugged hike with some great history!
11:30 am: History Hike– Join Tony for a guided hike that will take you to Endless Cave, Bear Den Cave, and Lovers Leap. 45 mins.
12 pm: Endless Cave Tour– 2 hours. Must preregister by August 18th.
9 pm: Full Sturgeon Moon Hike–Meet volunteer Anthony at Oak Ridge Shelter for an easy night hike on trail 7. Good hiking shoes, walking sticks and red flashlights are recommended for night hikes! 1.75 miles.
Sunday, August 22nd
10 am: Bats-Our Insect Devouring Flying Mammal– Please join Chris at the Lakeview Activity Center as we learn about the natural benefits that bats provide. 30 minutes.
PARK ENTRY FEE MAY APPLY
$7 FOR INDIANA RESIDENTS
$9 FOR OUT-OF-STATE RESIDENTS
PLEASE CONTACT THE PARK OFFICE FOR MORE INFORMATION
(812)849-3534
Related Events