Welcome Back Weekend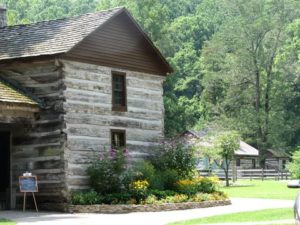 WELCOME BACK TO SPRING MILL
It's finally that time of year again! Let's get outside and enjoy all that Spring Mill State Park has to offer this weekend!
Friday, May 5th
9pm: Full Moon Hike – Meet Anthony at the Lakeview Act. Center for a hike on
Trails 2, 4, and 1 while learning about May's Full Flower Moon. Partially rugged.
1.5 hours.
Saturday, May 6th
10am-2pm: Live Birds of Prey at the Lakeview Activity Center – Stop by and talk
to the Nicholsons who run Raptor's Rise Rehab and learn about these amazing
birds of Indiana!
11am: Cave River Valley Hike – Explore this beautiful, primitive property managed
by Spring Mill. We will explore the west side (mill history and caves). Meet the
naturalist at Donaldson parking lot to follow her in your car 15 miles to CRV. 2
hours. Very Rugged. Water-proof boots highly recommended. Walking stick is
handy as you walk on slippery rocks while crossing the creek. Attention: The
naturalist won't show up at CRV unless she knows you are coming, so if you don't
plan on meeting her at Donaldson parking lot, please call a day in advance to let
her know you will meet her at CRV. 812-849-3534 OR sbelt@dnr.in.gov
11am: Snake Talk – Join Naturalist Jill at the amphitheater by the Lakeview
Activity Center to learn about snakes of Indiana and meet two of our resident
snakes. 30 minutes
1pm: Box Turtle Talk – Learn about box turtles while meeting a live one. Lakeview
Activity Center. 20 minutes.
3pm: Wildflower Hike – Join volunteer, Steve, on a hike on trail 5 to explore all
the wildflowers in bloom. 1-mile, moderate hike. Meet at Lakeview Act. Center. 1
hour.
Sunday, May 7th
10-3pm: Free Fishing Pole & Free Bait—Indiana residents do not need a fishing
license today to fish the state's public waters. All other rules such as seasons, bag,
and size limits apply. Stop at the Lakeview Activity Center to borrow a pole and
pick up some free bait. One hour time slots. Limited supplies.
Park Entry Fee May Apply
Related Events