Spring Mill State Park Weekend Programs
January 22, 2022

-

January 23, 2022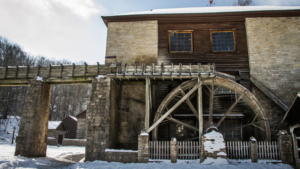 WEEKEND INTERPRETIVE PROGRAMS
Are you looking for something to do this weekend? Check out the programs at Spring Mill State Park!
Saturday, January 22nd
1pm:  Fire Building 101 – Learn how to build a proper campfire and campfire safety with Naturalist Morgan. Lakeview Activity Center. 30 minutes.
3pm:   Donaldson Hollow Hike – Meet Anthony by the Sycamore Shelter to learn about Spring Mill's eccentric Scotsman George Donaldson as we wind along the beautiful stream to the cave named in his honor! 1mile, partially rugged hike. 45 min.
Sunday, January 23rd
1pm:  All Things Spring Mill Hike – in a hike around the lake while learning about what makes Spring Mill special. Meet at Lakeview Activity Center's front patio. Moderately rugged, 1 mile. 1 hour.
PARK ENTRY FEE MAY APPLY
CONTACT PARK OFFICE FOR MORE INFORMATION: 812-849-3534
Related Events