For 76 years, this quirky, orange and puckery fruit has been celebrated in Lawrence County's Mitchell, Indiana. Here, persimmons thrive and grow until September when they ripen immediately after falling from the trees.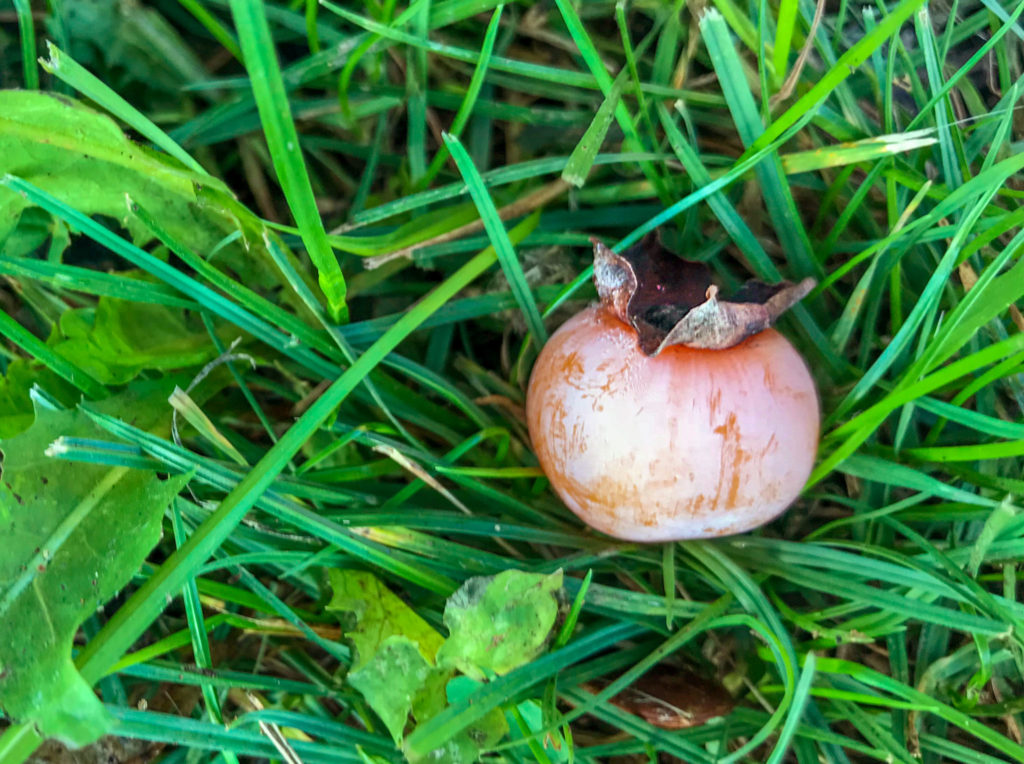 Persimmons are harvested from the ground, after they drop from the trees. Choosing the best persimmons is a specialized skill. Before baking can begin, the persimmons need to be transformed into pulp. Here, Judy Shaw demonstrates harvesting and making the persimmon pulp.
Including persimmons in recipes is how persimmons taste best. Recipes have been passed down through family generations, traded among friends and taste-tested in Lawrence County kitchens and restaurants. Secret recipes are guarded almost fiercely as Fort Knox. However, if you are lucky, you will find someone willing to share a tried-and-true, mouth-watering persimmon recipe like Judy Shaw has here.
All-in-all, these delightfully, quirky fruits are worth celebrating, and we do it in a BIG way in Lawrence County!
Mitchell's Persimmon Festival – Preview Events
S

pring Mill State Park Candlelight Tour on Saturday, Sept. 23
The traditional Spring Mill State Park Tri Kappa Candlelight Tour lights up Pioneer Village Saturday, September 23 from 4pm until 9 pm. Illuminated lanterns and glowing candlelight transcends the village back to the 1800s, as crafters demonstrate their skills and produce their wares.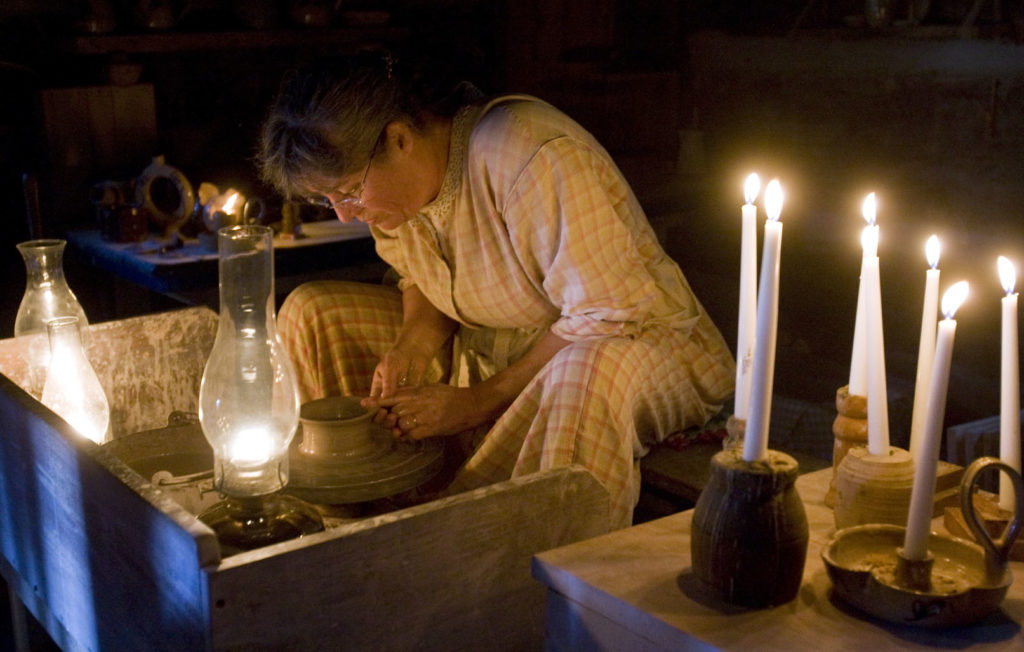 This twilight stroll through Pioneer Village, busy with pioneer life, provides a glimpse of a typical fall evening in the mid-1800s. Color-edged leaves, hay bales, scarecrows and corn stalks create autumn magic, as the smell of persimmon goodies signals festival time is here. Come hungry for the ham and beans dinner, popcorn balls, caramel apples and persimmon desserts. Experience musical entertainment, story-telling and trades demonstrations. Proceeds benefit the many charity, educational and cultural projects supported by the Mitchell Tri Kappa.
Other preview events include a community yard sale, dutch oven meals, a fine arts contest, pageants, a road rally and a special vespers service.
Mitchell's Persimmon Festival – The Main Event
Celebrating 76 Years!
Then on Monday, September 25, The Persimmon Festival comes alive in downtown Mitchell. Open through Saturday, September 30, this celebration is packed with carnival rides, a parade, pageant winners, contests, activities, demonstrations, crafts, a car show and vendor booths. Native sons and daughters return and families gather for this traditional homecoming.
Free Main Street Stage Entertainment
Exciting and entertaining musical acts are scheduled every night. Admission is FREE!
Monday, Sept. 25: Persimmon Idol. Listen to contestants perform in two age classes: Youth and Adult.
Tuesday, Sept. 26: Country music artist from Bedford, Cody Ikerd. Hear him perform his EPs Honest Man and You Can Find me In A Honkytonk.
Wednesday, Sept. 27: Gospel Night
Thursday, Sept. 28: Bedford's own, Clayton Anderson, Country music singer-songwriter with several hits including Indiana, Gotta Get Up and Show Me Your Fish.
Friday, Sept. 29: Endless Summer Band, upbeat high energy music
Saturday, Sept. 30: Crush Bon-Jovi Experience, a Bon-Jovi tribute band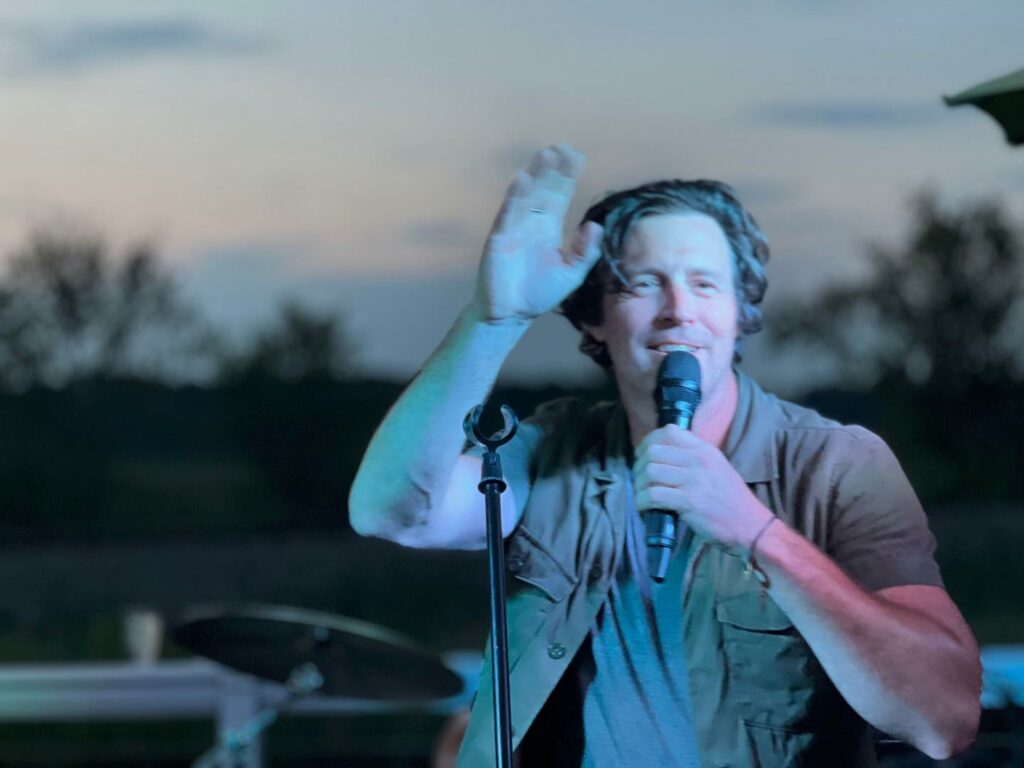 Fantastic Festival Food!
As always, you'll find some of the best food you have ever tasted. And, yes, some of the best food you have ever tasted will be persimmon recipes including, but not limited to persimmon pudding, cookies, and ice cream. To compliment your persimmon treats, other festival food favorites like brats, tacos, corn dogs, BBQ, tiger ears, and cheeseburgers will be easy to find. Wash it down with coffee, iced tea, lemonade, cream soda, apple cider, soft drinks or ice cold water. With so many tasty temptations, come hungry and thirsty every day!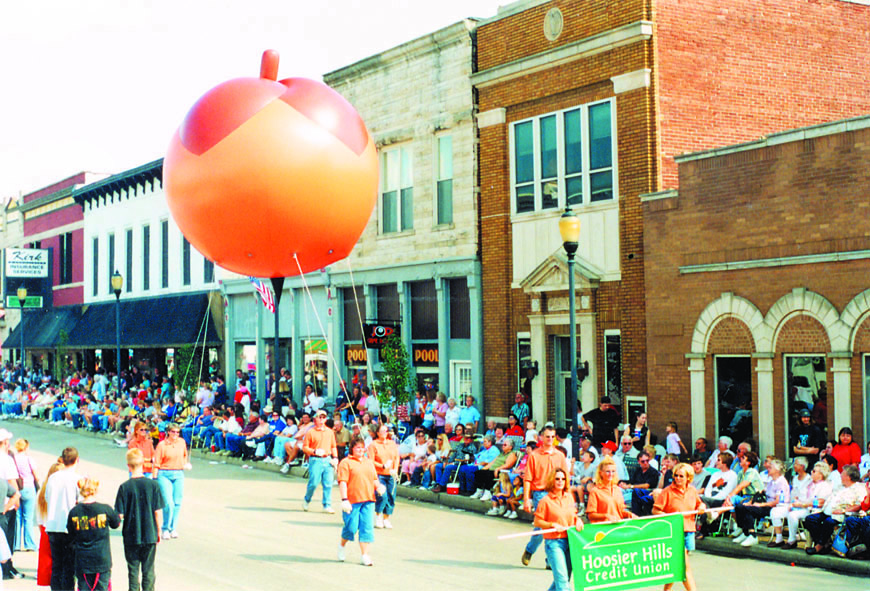 Lots to see and do!
The Mitchell Persimmon Festival provides so many ways to work off your persimmony treats. Shop the arts and craft booths. Peruse the business vendors. Attend the parade on Saturday. Meet and greet the pageant winners. See displays throughout the festival. Watch the many interesting demonstrations. Experience thrills as you ride the carnival rides every evening from 5 p.m.–10 p.m. and on Saturday from noon–10 p.m. Boogie or sway to the music with the free nightly musical entertainment. Festival favorites plus new activities every day will keep you coming back to the festival all week long. It is a full schedule, so plan your trips to the festival here.
Click here for lodging options.
To receive monthly e-newsletters featuring other Lawrence County events and attractions, click here.