Mitchell's Favorite Fruit

There's nothing that tastes more like Indiana than sweet corn, pork tenderloins and sugar cream pie… Except, perhaps for a special Southern Indiana favorite: persimmon pudding. There's nowhere else in the state and even the country that grows and cooks persimmons like they do in Mitchell, Indiana.
The persimmon tree is native to Virginia and has made its way westward towards Southern Indiana. The persimmon tree took to Mitchell in Lawrence County, Indiana, and the surrounding communities, growing and producing impeccable fruit thanks to the region's rich soil. It's not unusual to spot a persimmon tree in someone's backyard.
The little orange fruit is about the size of a plum. Its flavor is incredibly unique, depending on when you taste it. Unripe persimmons straight off the tree are incredibly tart and tangy, but once autumn breezes in, the tart fruit fall to the ground into mushy, sweet deliciousness. It sort of tastes like pumpkin.
Most people don't eat ripe persimmons like you would other fruit. Once the persimmons are harvested in early September, they are mashed through a strainer and turned into persimmon pulp. The pulp can be frozen, then used any time of year. These truly unique Indiana persimmons are more flavorful and have the perfect texture that other varieties don't.
Fall Harvest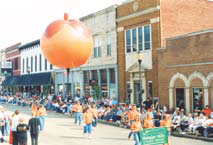 Persimmon pulp can be used for almost anything – slushies, ice cream, cookies, baked treats – but the signature dish is persimmon pudding. Every year at the Mitchell Persimmon Festival, dozens of home bakers enter to win the persimmon pudding baking contest and coveted bragging rights for the year. While every recipe tastes a little different, most persimmon puddings have the texture of gingerbread and are served as a whipped cream-topped square.

Even though the persimmons are sweetest in September, you can still get a taste of persimmon pudding at the Millstone Dining Room in Spring Mill Inn or many other persimmon treats at Huckleberry's Bakery. After you've tasted the unusual local delicacy, try your own persimmon recipe using persimmon pulp that can be purchased from Applacres in nearby Bedford.