Drive the back-country roads in rural Midwestern communities and you may stumble upon something intriguing. Brightly colored squares peek out on the side of barns, sheds and buildings. Those rustic decorations are called barn quilts and we have quite a few of them here in Lawrence County.
Quilt Blocks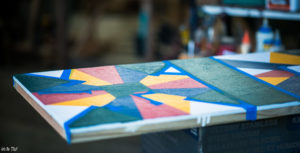 Barn quilts are large wooden blocks, usually four-foot by four-foot, painted to look like quilt blocks. Each one is hand-painted and hand-crafted by local artists. Just like real quilts, each block is unique with a story to tell. Some barn quilts are replicas of a family quilt passed down from generation to generation. Others proudly tell the story of the family's heritage or favorite sports team. They are designed to look like traditional quilt squares and recognizable shapes, such as flowers or barns.
A New Tradition
Barn quilt trails are a relatively new craze. The first official trail began in 2001 in Ohio.  There are 39 barn quilts and counting in the Bedford Mitchell area. The Lawrence County Barn Quilt Trail is one of the biggest public art collections that celebrates Indiana's agricultural roots in the region.

Barn quilt enthusiasts and roadtrippers can pick up a copy of the Official Barn Quilt Trail Brochure at the Lawrence County Visitor Center to map out their trip. Tour the countryside and see every one of them from the road along the driving trail. Many of the barn quilts are located along US50. Please, remember to keep a friendly distance from our neighbors' properties and only look at the quilts from the roadside.