Spring Mill State Park Programs
May 25, 2019

-

May 26, 2019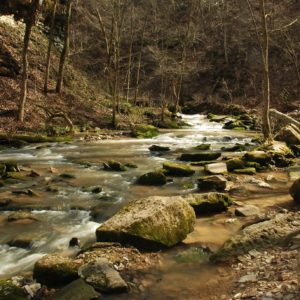 SATURDAY MAY 25
9:30 AM – Cave River Valley Hike
Meet at Donaldson Parking Lot
Have you been to the property that Spring Mill manages in Washington County? It's full of history! Prepare to get your feet wet as we hike down to the valley!
3:30 PM – The Transformation of Milling
Meet at Lakeview Activity Center
With slides of historic maps, photos and documents, David Nord from IU will describe how a national and global revolution in flour milling played out in Indiana. Don't miss!
SUNDAY MAY 26
10:00 AM – Wildflower Hike
Meet at Lakeview Activity Center
The beauty of Spring is all around. Come enjoy a hike around the lake with naturalist, Chris, as he tells you more about the beautiful flowers of Spring. Hike is 45 minutes, rugged.
11:00 AM – Trees Tell a Story
Meet at Lakeview Activity Center
Trees can't talk, but they can tel us a story through their rings and leaves. Learn about trees and their leaves in this interesting program.
3:30 PM – Creek Stomp
Meet at Village Ordinary
Feel the cool spring water on your feet as you explore who calls this creek home.
Related Events