An adventurous guy's getaway doesn't have to mean going far from home! Bring your off-roading buddies and get muddy. Pack your hiking boots for some of the greatest trails in Indiana! Fishing, kayaking and canoeing – yep, we've got lots of that too! Watch the game over some brews and belly-filling home-style cooking. Bring your clubs and hit the links. With so much to offer, Lawrence County has a winning combination for Guys' Getaway fun.
Gettin' Muddy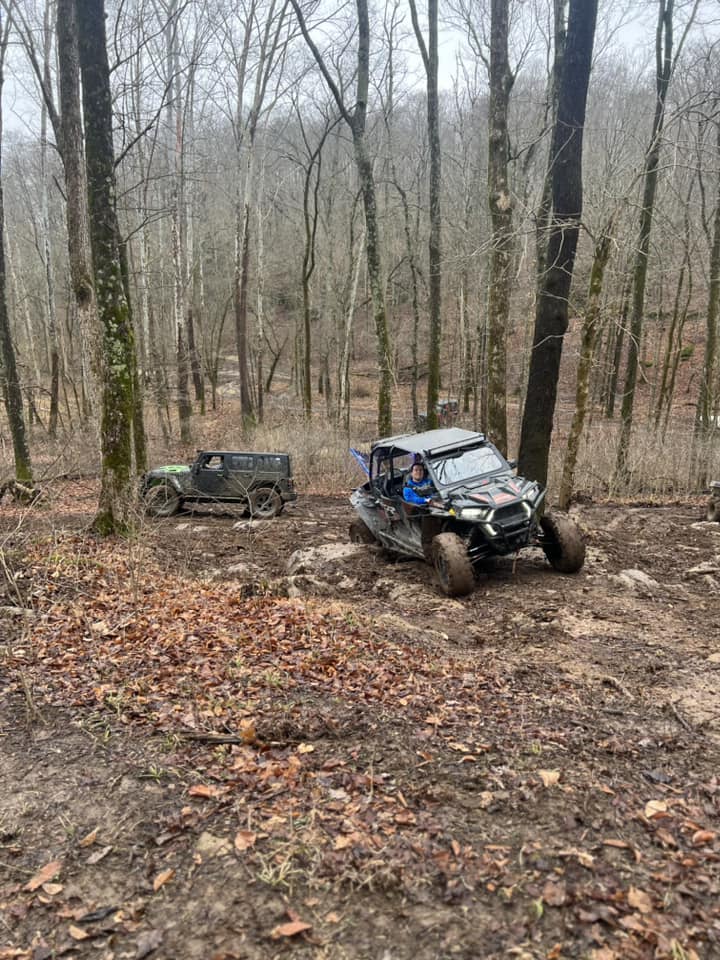 The rocky terrain and rugged hills in Lawrence County are nature-made obstacle courses ready to be challenged by your off-road or 4-wheel vehicles. Here are a couple of perfect spots for bumpy and boisterous mischief.
Lawrence County Recreational Park in Springville has 400 acres of trails designed for the ultimate off-road ride. Load up your motorcycles, ATVs and UTVs and hit the trails. You'll find a variety of skill levels, from beginner to savage! Camping is available on-site. Please note: trucks, sandrails and buggies are prohibited at this facility.
In Bedford, Thorne's Recreational Property, gives your off-road vehicles a thrill! Explore trails that wind through over 130 acres of Jeep-jarring terrain. Bring your ATVs, UTVs, 4x4s, dirt bikes and Jeeps. Then, take the axle-rattling ride of your life up and down rocky, rugged hills and through splashing mud and water.
Hikin' & Bikin' and Fishin' & Floatin'

Spring Mill State Park is one of the best places in Indiana for outdoor recreation. With eight trails that range from rugged to easy and from a half mile to 2.5 miles in length, you'll be in hiking heaven. While you are on foot, explore the many caves on-site or schedule a boat tour at Twin Caves (seasonal and pending weather). Bring your rods and tackle because the fish are always biting at the Spring Mill Lake. Make packing for your trip easy. Kayak, rowboats, canoes and bikes are available to rent (seasonal). Meanwhile, the historic Pioneer Village and Grissom Memorial museum are interesting stops to make during your park visit.
Thorne's Recreational Property also invites you to put an oar or a line in the water. Bring your canoes, kayaks and paddleboards. Rentals can be arranged in advance. Fish to your heart's content. Then, spend the night on grounds in our cozy modern cabin, or bring your gear and stake your claim on primitive camping sites.
Williams Dam State Recreational Area is a great spot to fish. Make sure to schedule time to hike or bike the super-scenic Milwaukee Trail and explore the Williams Covered Bridge.
Hitting the Links

If you are a serious golfer looking for a rewarding and picturesque 18-hold day on the course, or a casual player just looking to tee-up a good time, Lawrence County has the golf experience for you.
Otis Park in Bedford offers challenge and historic beauty to the golfer looking for a memorable golf experience. Recognized as one of the best municipal golf courses in Indiana, this course has it all, including a lighted driving range, practice greens, lessons, leagues, pro shop and snack bar. What makes this golf course extra special is the limestone band shell on the 10th tee. It is definitely a selfie spot.
Also in Bedford and offering 27 unique holes, Stonecrest Golf Community is another stunning golf course to play. With tree-lined fairways, gentle slopes and spectacular nature, it shows off Lawrence County in a beautiful way. Three distinct nine-hole golf courses gives players flexibility to combine two courses, creating a customized 18-hole experience. Amenities include driving range, pro shop, party rooms and more.
Brews, Bars and Home-Style Cooking

Buffalo Wings and Rings in Bedford has all you need for a perfect guys' night out. Sports on 20 TVs, wings, burgers and brews all combine to make a perfect outing.

Pub 15 in Bedford serves hearty grub pub like juicy burgers and big entrees with cheesy goodness. Do yourselves a favor! Try the onion rings! Pair them with one of the many craft brews and cocktail concoctions.
Also in Bedford, Court Room Sports Grill offers a unique blend of Midwest favorites and New Orleans flavor. Craft beers are on tap and the games are on the TV screens. You'll have a tasty time here!

The Railroad Café in Mitchell serves tenderloins as big as your head! Come hungry because you'll want to eat every bite. The home-cookin' menu is extensive, and the list of desserts has lots of tempting choices. So, try to save room…somehow.
Apron Strings Diner in Bedford offers home-style cookin' at its best! Their menu is loaded with lip-smackin' comfort food that starts with breakfast. The colorful aprons and tablecloths will remind you grandmas's house and the heaping-helping of familiar favorites will too.
Rowdy or relaxing recreation is yours in Lawrence County. Great food and a variety of outdoor activities will keep you and your friends busy and happy for days!
Subscribe to the Lawrence County e-newsletter to keep up on our outdoorsy events and attractions.