Interpretive Weekend at Spring Mill
October 19, 2019

-

October 20, 2019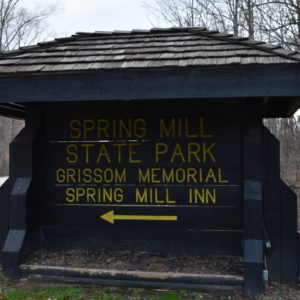 INTERPRETIVE PROGRAMS
Have fun at Spring Mill State Park by participating in all of the fun programs that are put on by the Park Naturalists and volunteers!
This weekened:
SATURDAY
8:00 am:  Early Bird Lake Hike
Join Tony on an early morning 1 mile hike around the lake.  Take part in the sights and sounds of nature. Meet at the Inn front patio.  Rugged.  1 hour.
10:00 am:  Cave River Valley in the Fall
Have you been to the property we manage in Washington County? It's full of history! Grab a water bottle and prepare to get your feet wet as we tour this beautiful spot in the fall. Meet Sarah in the Donaldson parking lot and carpool over for this beautiful hike. 2.5 hours, rugged.
11:00 am:  Nature Preserve Guided Hike
Join Gail at Twin Caves' parking lot for a 2 hour partially rugged hike.  Learn about our nature preserves and much more.
SUNDAY
11:00 am:  Leaf Press
The leaves are falling fast! Meet Sarah by the boat ramp and take a hike to marvel at the beautiful autumn leaves. Select a leaf to preserve and take home!
1:00 pm:  Wild Edibles Hike
Join Gail on a hike around the lake to learn about the food in nature.  Meet at the Lakeview Activity Center. 1 hour; rugged.
GATE FEE MAY APPLY
PLEASE CONTACT THE PARK OFFICE FOR MORE INFORMATION
(812)849-3534
Related Events