Interpretive Weekend at Spring Mill
October 26, 2019

-

October 27, 2019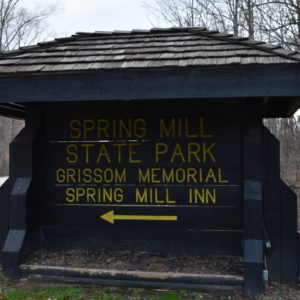 INTERPRETIVE PROGRAMS
Have fun at Spring Mill State Park by participating in all of the fun programs that are put on by the Park Naturalists and volunteers!
This weekened:
SATURDAY
10:00 am:  Trail 3 guided hike
Meet Chris at Twin Caves' parking lot.  Learn about George Donaldson, an interesting "Naturalist", and view the beautiful landscape he helped to preserve.  Partially rugged. 2 hours.
1:00 pm:  Hooray for Hibernation!
If you snooze you lose so join Sarah in the Lakeview Activity Center as we discuss the different animals preparing for a long winter's nap in Spring Mill.
SUNDAY
9:00 am – 3:00 pm:  Women's Learing Circle – Invasive Species
Free workshop for women land owners to learn how invasive species impact your property, how to identify invasive species, and how to control them.  Must pre-register by emailing Danielle at  dwilliams@pheasantsforever.org.
9:30 am:  Hamer Cemetery
Meet Chris at the Hamer Cemetery parking area to hear about the history and significance of this Pioneer Cemetery.
11:00 am:  Learning Lichen
Learn to love Lichen with Sarah at the Lakeview Activity Center. On the surface, they might seem drab, but by digging deeper we can uncover their beauty!
1:30 pm:  Tree ID Hike
Ever wonder what trees are here at Spring Mill?  Meet Gail at Oak Ridge Shelter to hike trail 7 and learn about our state tree and more.  1.75 miles, easy hike.  30 minutes.
GATE FEE MAY APPLY
PLEASE CONTACT THE PARK OFFICE FOR MORE INFORMATION
(812)849-3534
Related Events